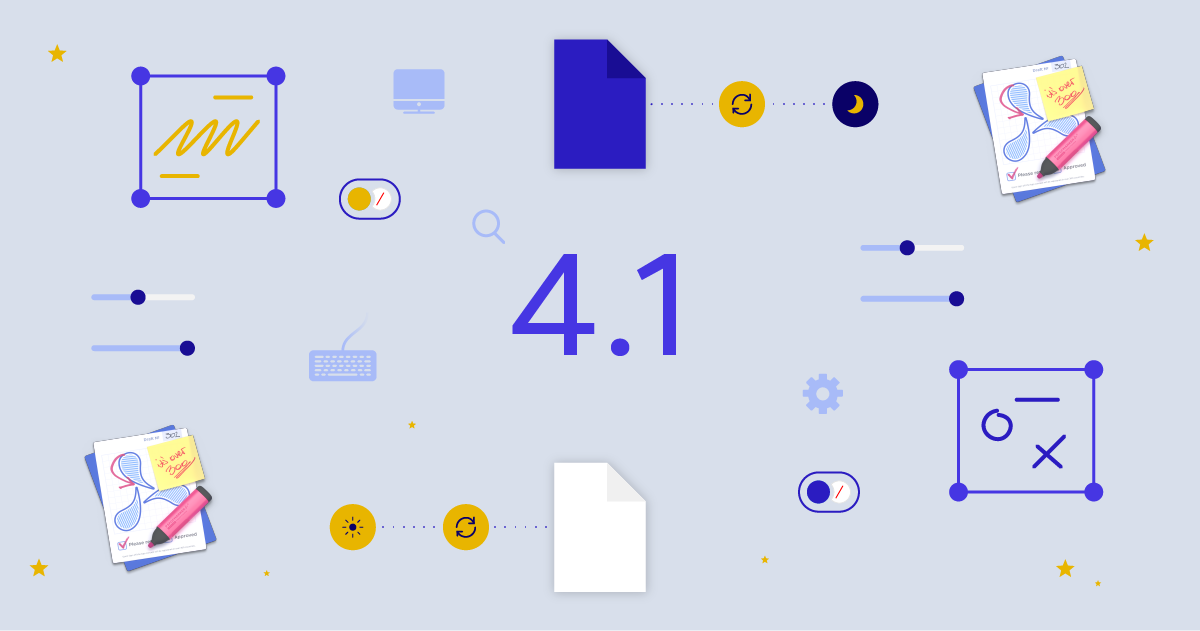 Alongside the releases of macOS Catalina and iOS 13, we both launched the first version of PDF Viewer for Mac and released PDF Viewer 4 for iOS, the latter of which added support for Dark Mode and multiple windows on iPad. Since then, our focus has been on polish and smaller enhancements. We've iterated quickly on the Mac app, coming out with frequent updates to respond to feedback and add useful features that didn't make it in the initial launch.
Today we're releasing PDF Viewer 4.1 on both iOS and Mac. In this post I'd like to highlight some of the key improvements in 4.1 and recent patch releases.
PDF Viewer for Mac Status Update
Some of our company's core values are continuous improvement, being open to feedback, and being willing to embrace the latest technology. As such, we're pleased with our decision to release PDF Viewer for Mac on day one with macOS Catalina despite the challenges that came along with it. Since then, we've received lots of great feedback that has shaped the app over the course of frequent updates. In fact, version 4.1 is the twelfth release of PDF Viewer for Mac in the two months it has been available!
We made many adjustments to the app to make it fit nicely alongside other Mac apps. We moved search to the sidebar so it doesn't obstruct your view of the PDF pages. Of course, Preferences should be in a separate window, so we fixed that. While automatic saving is the norm on iOS, not everyone uses this on the Mac, so we added a Save As command. Additionally, the app now uses the accent color and text highlight color set in System Preferences. And in version 4.1, we updated the app icon to be truly Mac-like:

Mac apps often appear on large screens like the new 16-inch MacBook Pro or huge external displays. To make better use of this space, PDF Viewer now shows more page thumbnails when in larger windows or on larger screens. We did this for the Mac, but it improves the experience on iPad too — especially the 12.9" iPad Pro.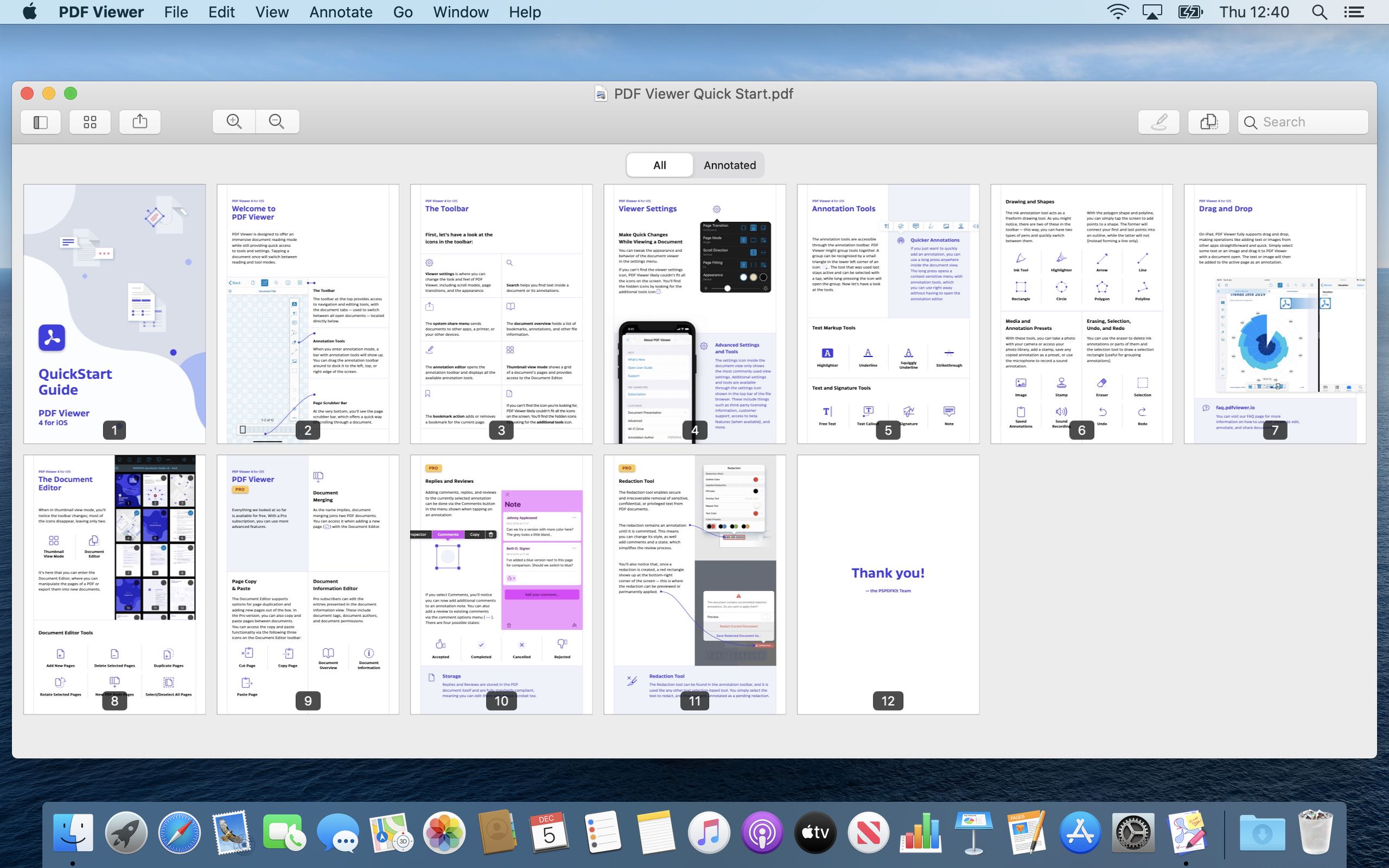 We also improved keyboard control. You can now use the spacebar to scroll screen by screen and use the delete key on selected annotations. To speed up navigating around large documents, we added the ⌘⌥G command to allow users to quickly jump to pages by number. All these keyboard commands are also available on iPads and iPhones when using a hardware keyboard.
Dark Pages in Dark Mode
PDF Viewer has supported a dark page rendering mode for a long time. But we faced a dilemma when adopting the system Dark Mode. On the one hand, seeing a bright white PDF page could be undesirable when other apps are all dark. On the other hand, a key benefit of PDFs is that they look the same in all PDF readers and are designed by their authors to look a certain way, so darkening the page content could be unwanted too. We initially chose to preserve the standard appearance of documents by default, letting the page appearance be switched manually if desired.
But now we've added a new option for how PDF Viewer works in Dark Mode: It's a setting for Pro subscribers that automatically uses a dark page appearance when the system is in Dark Mode.
And More
A simple but powerful new capability is that you can now use the annotation inspector when multiple annotations of the same type are selected. This saves time by letting you change things like the color and line thickness on many annotations at once.
One last thing is that transparency will now be preserved when annotating PNG images. Yes, PDF Viewer can annotate images! With a Pro subscription, these annotations stay fully editable after the image is saved.
Our goal going forward is to keep major new features and releases in sync between iOS and Mac, while also embracing the unique characteristics of each platform where it makes sense. We'll continue to make PDF Viewer for Mac more of a Mac app. Fortuitously, many aspects of a great Mac app — such as power-user features, working well on large screens, and keyboard control — are also beneficial to iPad apps.
PDF Viewer can be downloaded for free from the App Store.