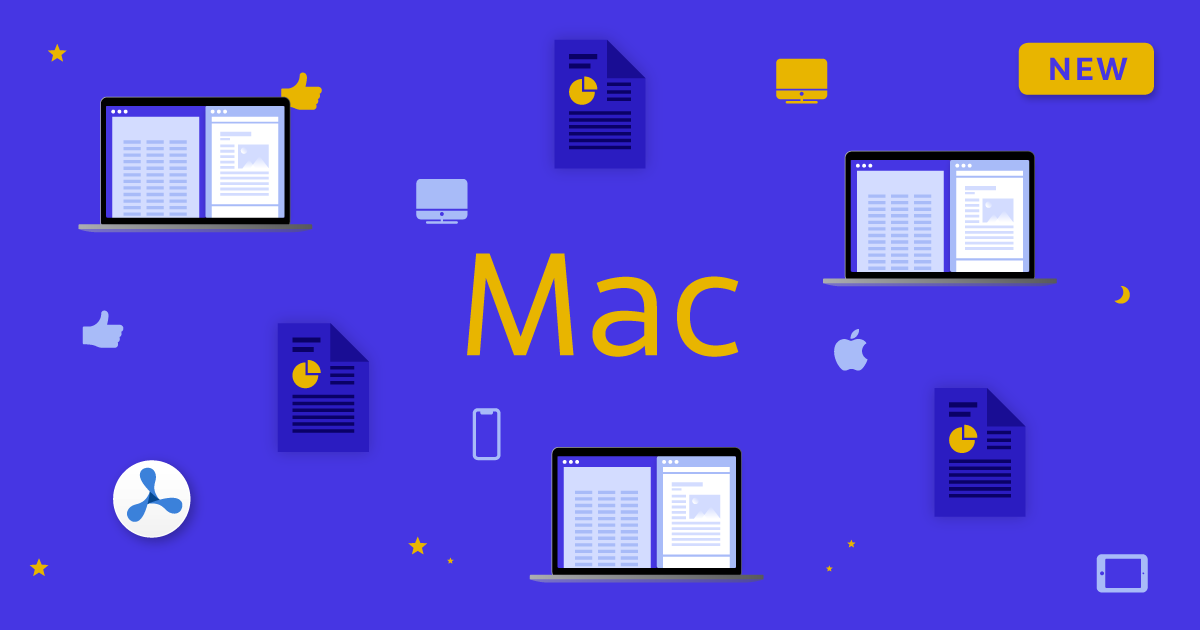 We've had a lot of requests for this, so we're thrilled to say that PDF Viewer is now available on the Mac!
PDF Viewer is a fast and beautiful app that allows you to view, search, annotate, and edit PDF documents with ease. And with the release of macOS Catalina, we've brought almost all of our extensive feature set from iPad and iPhone over to the Mac. This includes multiple viewing modes, a huge number of annotation tools, signing, and form filling.
While the Mac has great built-in PDF-viewing capabilities, PDF Viewer offers a much deeper range of features: redaction, audio comments, accessing embedded files, JavaScript to validate PDF forms, and restricting PDF permissions — just to name a few. Additionally, it's powered by the industry-leading PSPDFKit framework, which means it has excellent compatibility with all kinds of PDFs.
Fits in on the Mac
Here's how it works: You open documents in PDF Viewer for Mac either using the standard Mac open panel or directly from the Finder.
After opening a document, you'll see the items you'd expect in a Mac app's window, starting with the document icon in the title bar at the top, which dims when the document has unsaved changes. Next is the toolbar, which incorporates both a search box and buttons to zoom in and out in case you don't have a trackpad. You have full control to edit which items are shown in the toolbar and to decide whether or not to show icons, text, or both.
To make better use of the larger screens available on Macs and make things more convenient, we moved the document outline, annotation list, bookmark list, document info, and document security settings into a new sidebar.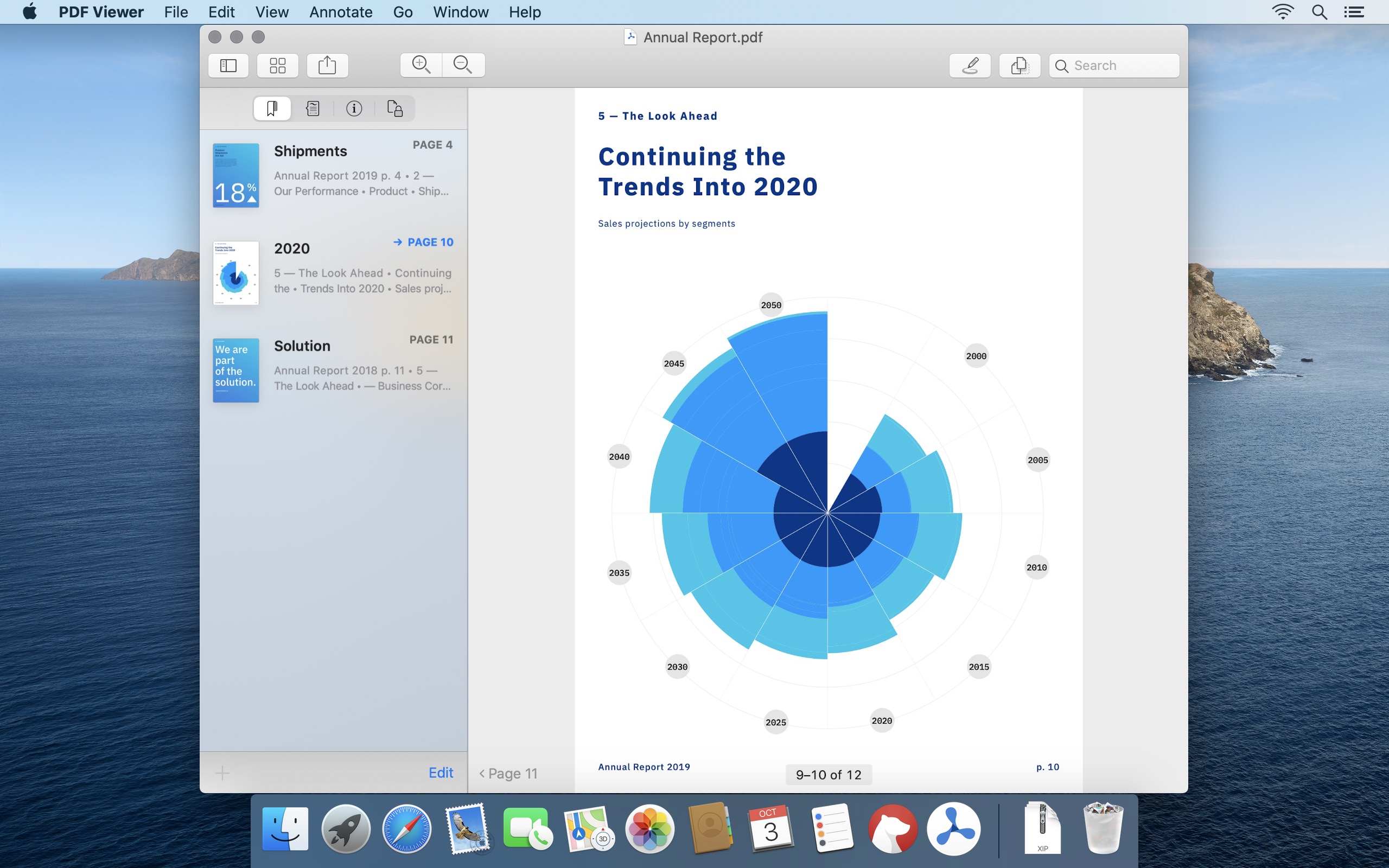 This is a Mac app, so of course you can open multiple documents in windows and tabs; standard functionalities like fullscreen, dragging tabs out as new windows, and merging windows into tabs are all available.
You can also drag and drop text and images into your PDFs to add annotations.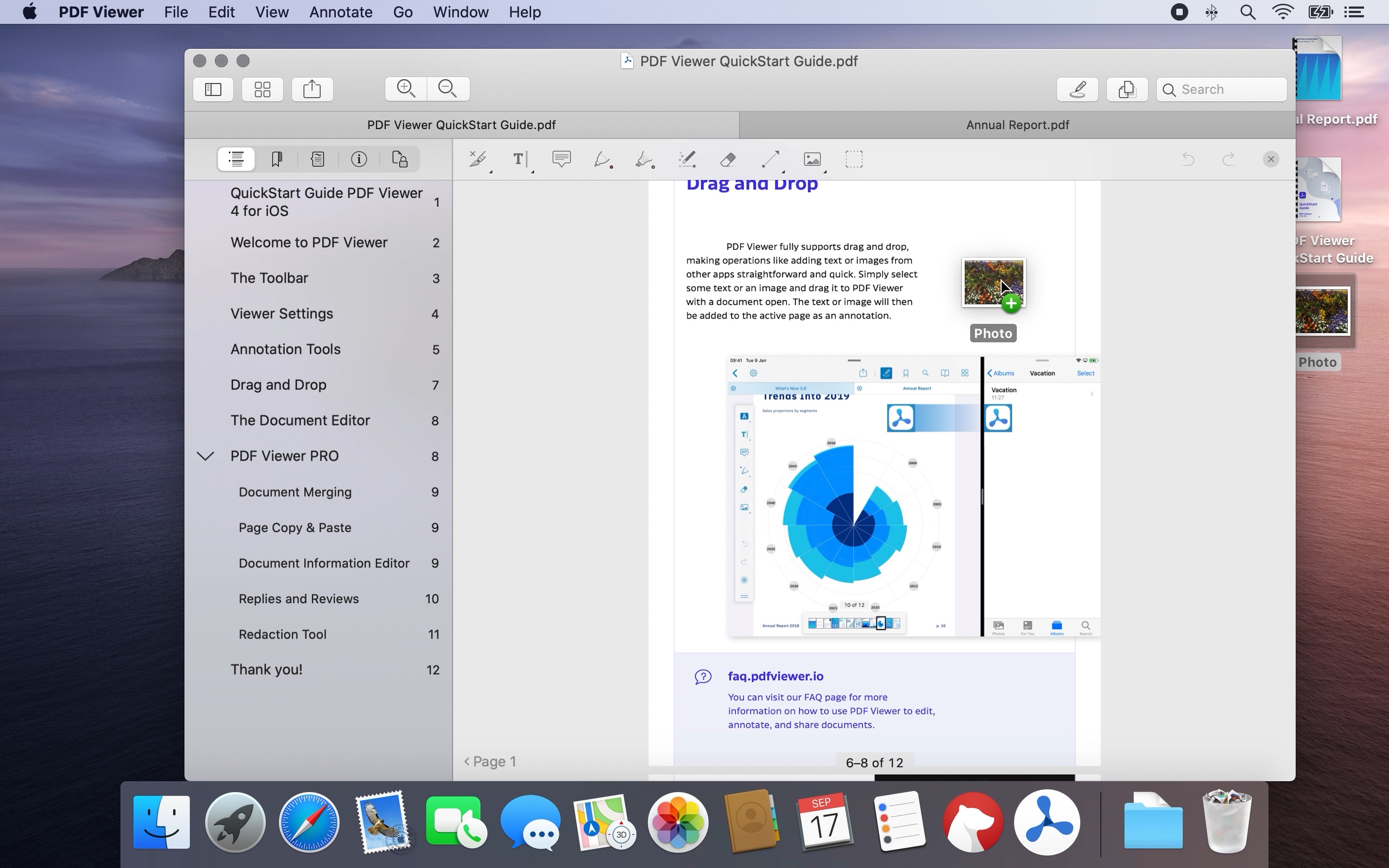 PDF Viewer for Mac follows the system setting for a light or dark appearance. In addition, you can optionally invert the pages of your PDFs to keep the brightness extra low.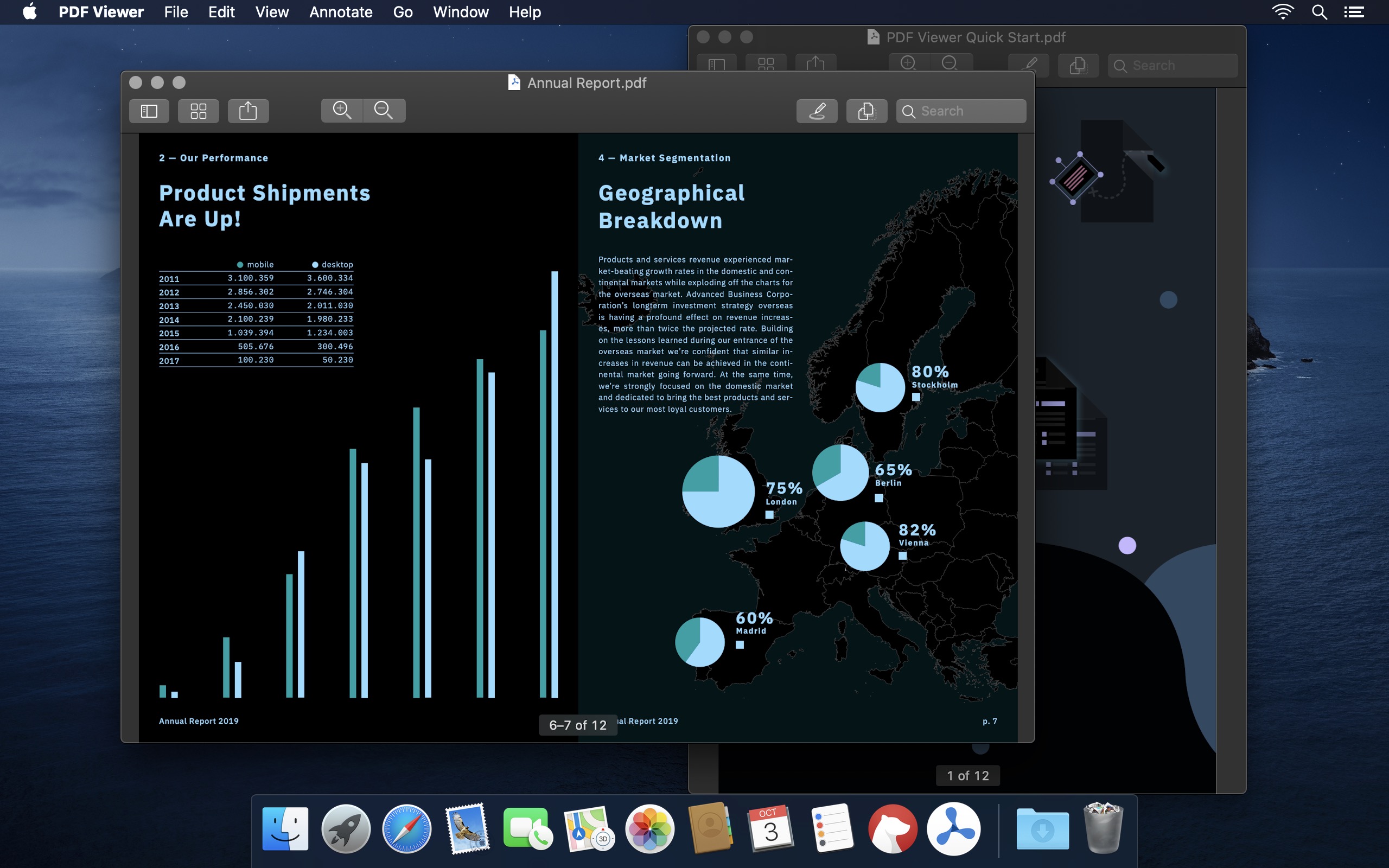 Above all your windows is the familiar Mac menu bar. You can use this to access the wide range of view options and annotation tools that PDF Viewer has to offer.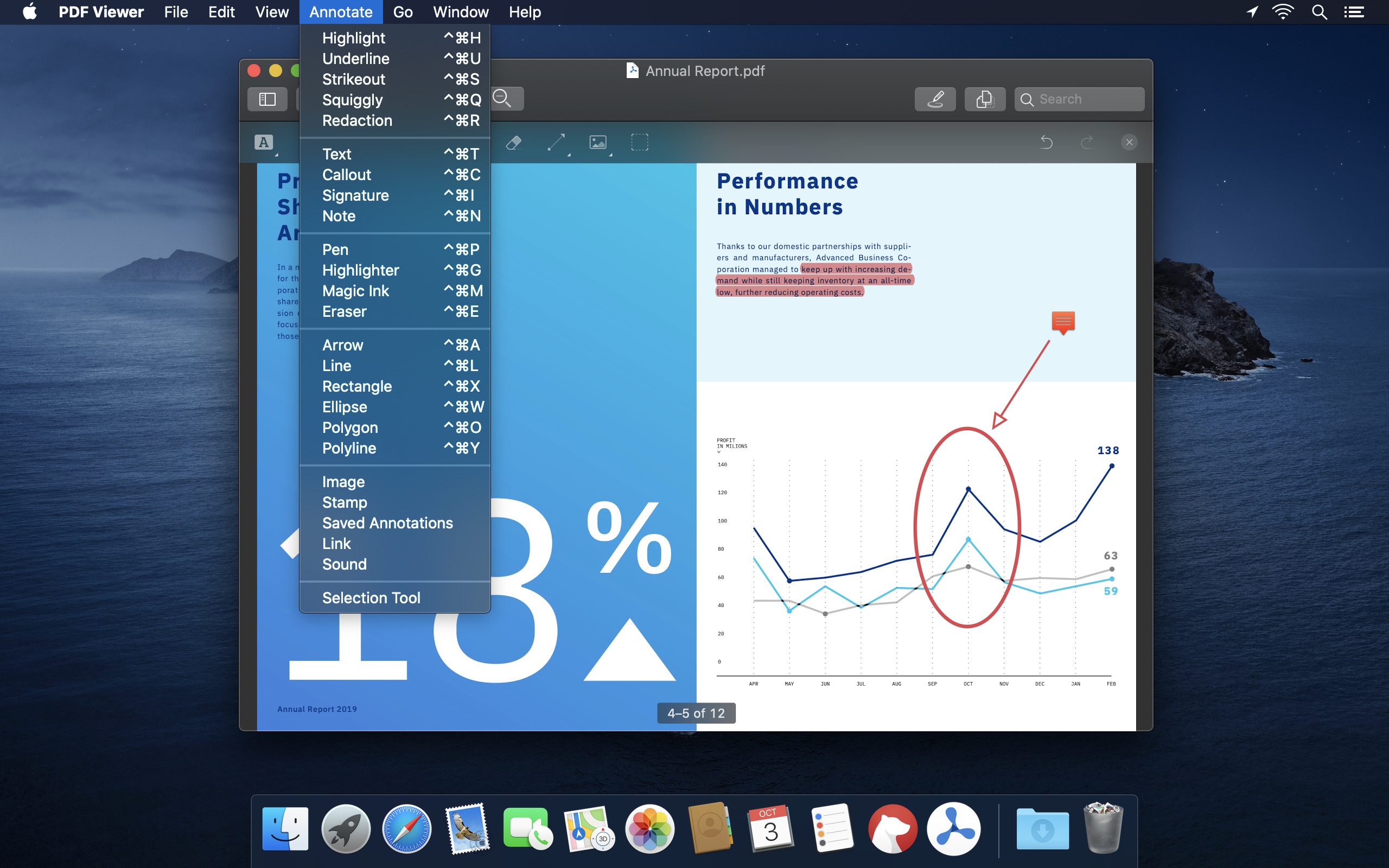 Pricing
PDF Viewer for Mac's pricing is the same as on iOS. Most features are available for free, including many annotation tools and the powerful document editor. With a PDF Viewer Pro subscription, you can use more advanced features, such as editing document metadata, or using redaction to securely and irrecoverably remove sensitive content from your documents.
Subscriptions are shared between iPhone, iPad, and Mac, so if you have already subscribed to PDF Viewer for iOS, all the Pro Mac features are automatically included — just make sure you sign into the same iCloud account on all your devices.
Go and Get It
This is the very first version of our Mac app, and we're excited to have it out alongside macOS Catalina. We'll be working hard in the coming months — and listening to your feedback — to regularly update and improve the app just like we do on iOS. That said, some parts of the app are likely to change, as we're tuning things to find how PDF Viewer can best fit in and feel like a true Mac app.
PDF Viewer for Mac requires macOS 10.15 Catalina. Download it for free from the Mac App Store and let us know what you think.