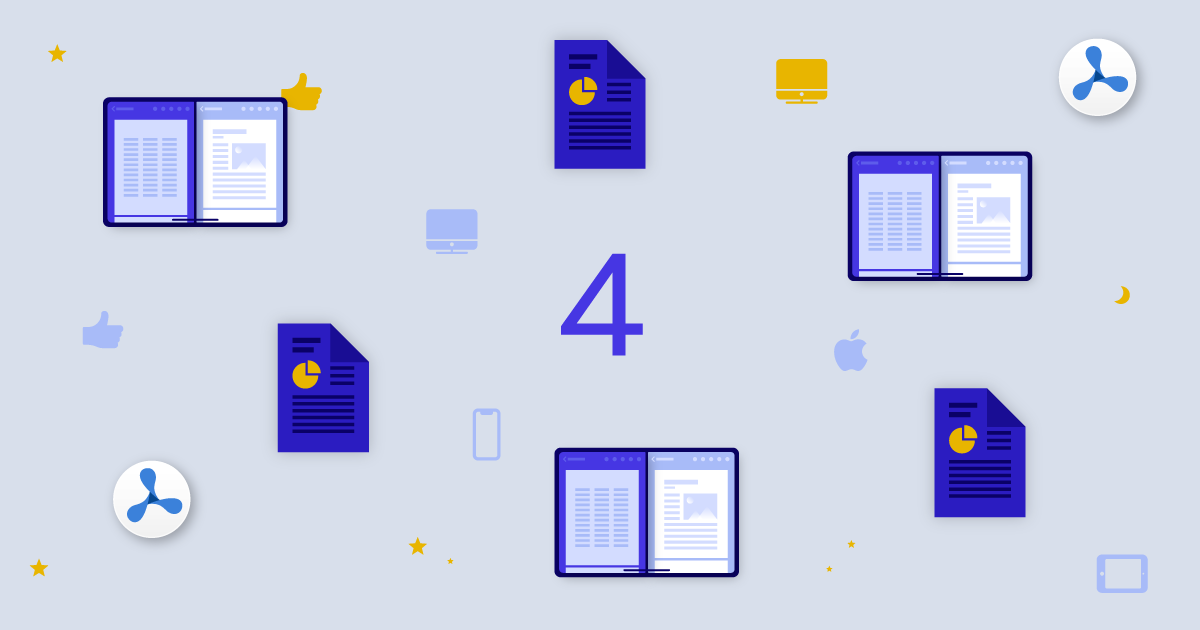 We're pleased to announce that PDF Viewer 4 for iOS is out now. It adds lots of great new iOS 13 features, and that's exciting enough on its own, but the highlight for us is that PDF Viewer will soon be available on the Mac!
Multiple Windows
With iOS 13, Apple is taking a big leap forward in making the iPad an even more powerful productivity device. Thanks to iOS 13, you can now work with your documents in multiple windows, either by viewing two PDFs side-by-side, or by showing several documents alongside other apps in separate spaces. Every PDF Viewer window can have multiple documents open in tabs. You can drag tabs between windows or drag them out to open new windows. You can also open a document in a new window by dragging a file from the document browser.
Dark Mode
PDF Viewer has offered a dark appearance for a while, in which you could choose to make just the app dark or you could choose to invert the appearance of your PDF pages. iOS 13 introduces the systemwide Dark Mode, and PDF Viewer is ready. We removed the separate option to change the app theme in PDF Viewer, so now it's aligned with the system setting. We also refined the dark appearance to better match other iOS 13 apps.
By default, documents will keep their normal appearance, even in Dark Mode. PDF Viewer still has a separate setting to enable color-correct night mode, which shows white PDFs as black instead, so that reading them is easy on the eyes in dark environments.
💡 Tip: If you want to be able to change the system appearance quickly, you can add a toggle button to Control Center in the Settings app.
More
Since PDF Viewer uses the standard iOS document browser, it benefits from several other enhancements in iOS 13, including a new column view, opening files directly on external drives, and opening files on file servers on your local network.
There are a few other tweaks in this release. For example, the annotation toolbar and document editor icons have been refreshed so that they can be more easily distinguished from one another.
We also cleaned up a few features that no longer make sense. Due to the way the iOS document browser works, it was not very clear what Spotlight search actually searched and how to use it, so it's now gone. Searching for files in the document browser works as before.
PDF Viewer 4 for iOS can be downloaded for free from the App Store right now. But we're not done yet!
PDF Viewer for Mac
Very soon, PDF Viewer will be available on the Mac, and it will have the same features as on iPad and iPhone. We'll have more to say about this very soon.