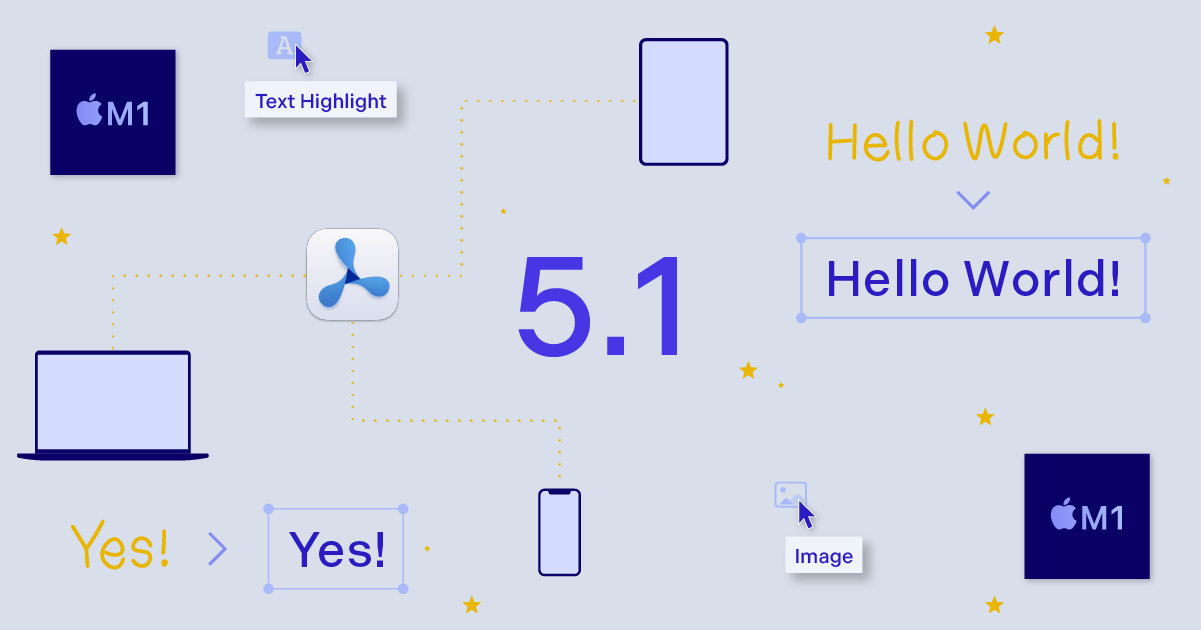 PDF Viewer 5.1 for iPad, iPhone, and Mac is now available. This release is focused on the Mac. We made sure the app fits in on the newly released macOS Big Sur, and we made the Mac app available as a universal purchase with the iOS app. There are also improvements on iOS in the form of enhanced support for iOS 14's Apple Pencil Scribble feature.
macOS Big Sur
PDF Viewer for Mac is ready for macOS Big Sur and the new Macs powered by the Apple M1 chip. We added a brand-new app icon to match the style of Big Sur, and we tweaked our icon on iOS as well so that the iOS and Mac icons feel like a pair while still being at home on their respective platforms.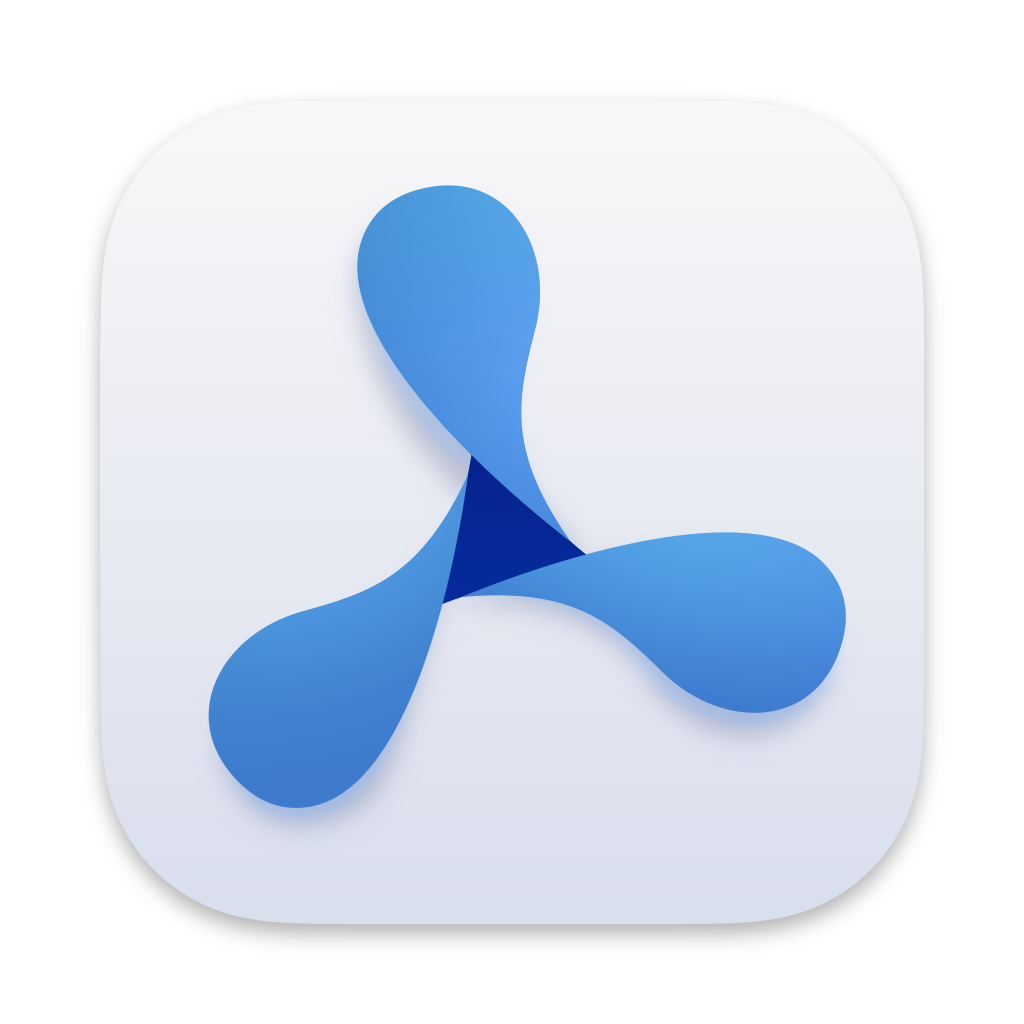 The look of the document window toolbar has also been updated to fit in on the new system.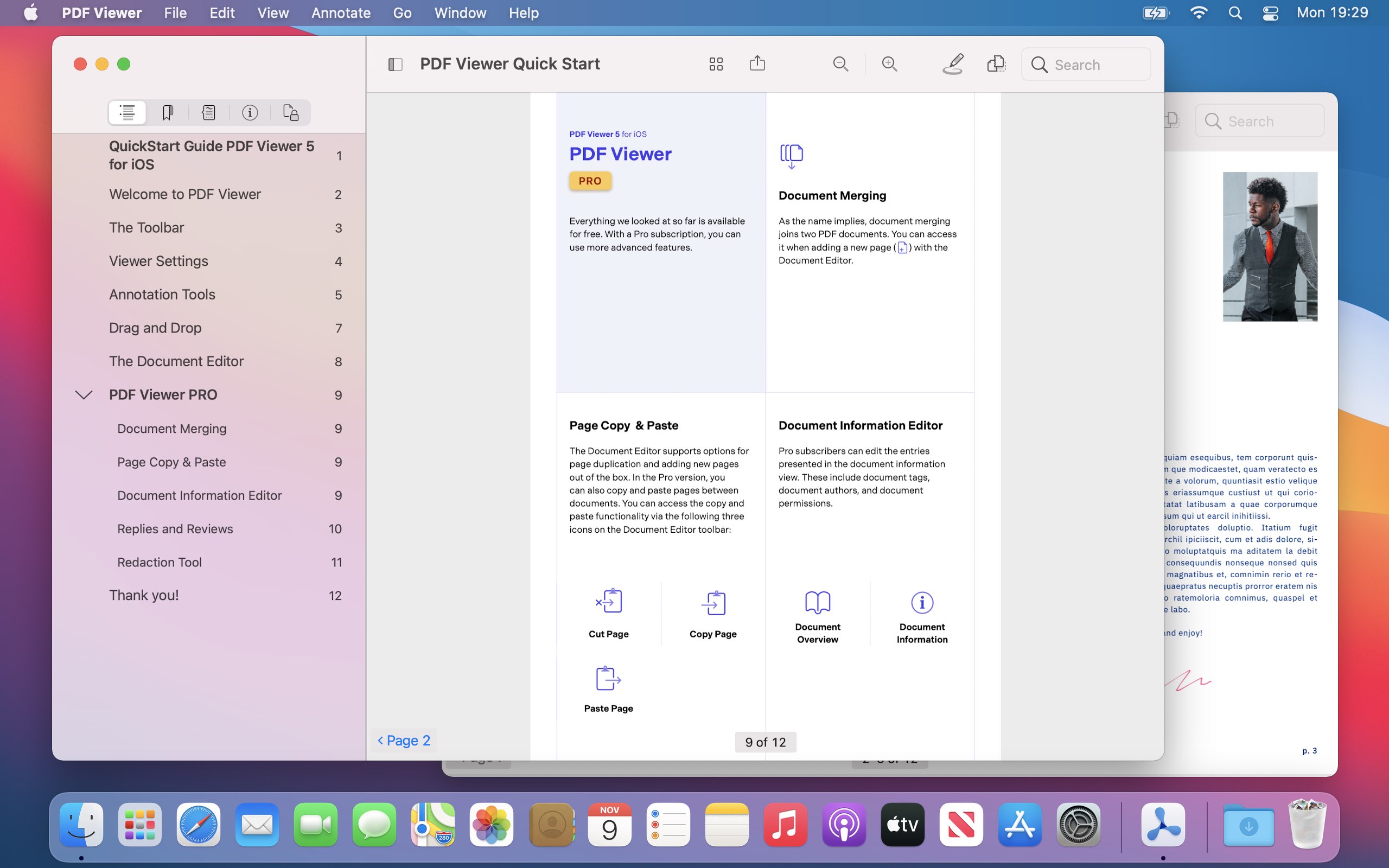 On top of this, we added tooltips that show button names when you hover the mouse over the annotation toolbar and document editor toolbar.
Universal Purchase
Before this release, PDF Viewer for iOS and PDF Viewer for Mac were available as separate items on the App Store. This meant the apps needed to be downloaded separately on iOS and Mac. Since we wanted a single subscription to work across iOS and Mac, in October 2019, we implemented a custom system for sharing your subscription between your devices by signing into the same iCloud account on your iPad or iPhone and on your Mac.
Apple now offers universal purchase, which gives us the ability to provide our app on both iOS and Mac as a single item on the App Store. This means subscriptions can be shared between iOS and Mac without needing our custom iCloud solution.
In version 5.1, we adopted universal purchase to make the arrangement simpler for everyone. Now if you download PDF Viewer on either iOS or Mac, it'll automatically show up in your list of purchased apps on the other platform, and your subscription will be shared without the need to use the same iCloud account everywhere.
If you already use PDF Viewer for Mac, you need to manually download the new version. The easiest way to tell which version you have is that the old version uses the old-style icon with the pink pen, while the new icon is a simple blue emblem on a white square. You can read more about migrating existing subscriptions in our help article about universal purchase — the good news is that you probably don't need to do anything except download the new version on your Mac.
Scribble and More
For Apple Pencil users, Apple recently introduced an iPad feature called Scribble, which conveniently converts your handwriting into text. We already supported Scribble for text annotations and filling in forms in PDF Viewer 5 for iOS. In version 5.1, we took that support further by allowing you to write anywhere on the page immediately after selecting the text annotation tool: If you write in an empty space, a new text annotation will be created; if you write close to an existing text annotation, your writing will be added to that annotation.
There's a range of other improvements in this release. For example, our Pro feature for adding links in documents now works with custom app URL schemes. You can use this to deep link from PDFs into your other apps. We made the app snappier in a few places, such as when searching large document outlines. Even PDF rendering quality has been improved in certain documents using bold and italic fonts. The PDF format never ceases to keep us busy!
Over the course of the last year, we ended these blog posts with separate links to download the app on iOS and Mac. Thanks to universal purchase, one link now works for both. 🎉 Here it is: