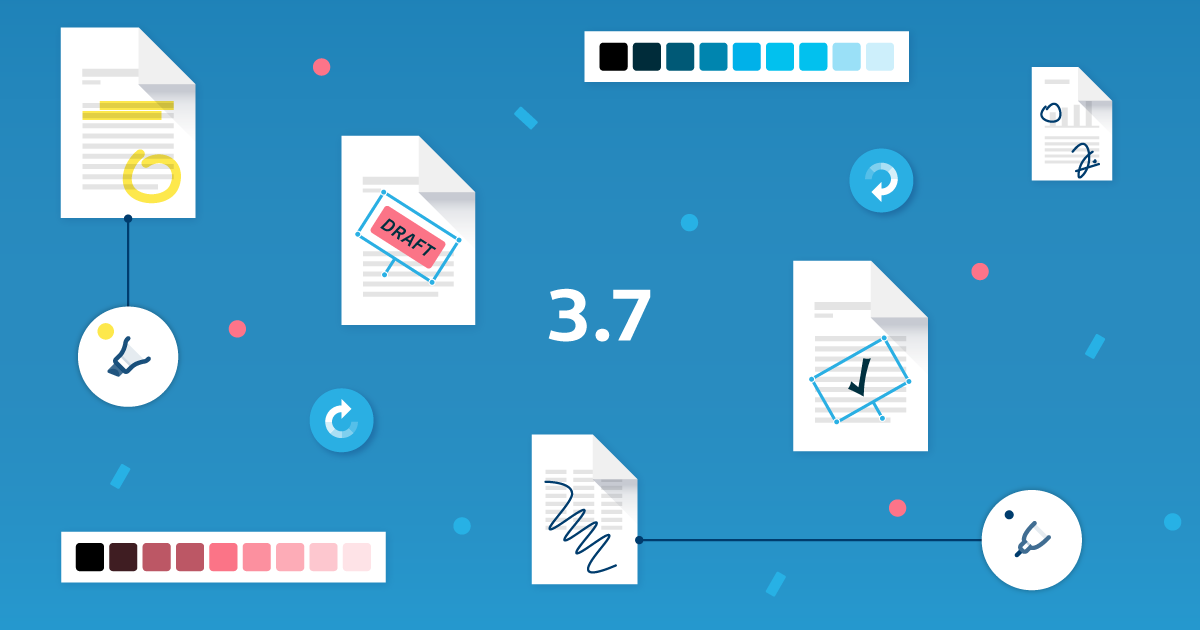 PDF Viewer 3.7 for Android is out! In this release, we added a new color picker and annotation tool presets, made annotation rotation and copy-paste free, introduced additional cloud storage connection to OneDrive, and much more.
New Color Picker
Today we're introducing a big improvement to our color picker. It features a larger palette of predefined colors, easy access to recently used colors, color variants based on the currently selected color, and the ability to set custom colors from HEX, HSL, or RGB values.
Annotation Tool Presets
In this release, we're introducing annotation tool presets. These allow you to store a specific tool configuration into a convenient preset slot to speed up your document editing workflow. PDF Viewer 3.7 comes with predefined variants for an ink pen and an ink highlighter (both based on the ink annotation tool), as well as a line tool and a new arrow variant.
Rotation and Copy-Paste Are Free
We are unlocking the entire rotation and copy-paste functionality for free users. This includes rotating text and stamp annotations, as well as the recently added image stamps rotation. The copy-paste feature consists of the ability to copy-paste annotations between documents and copy-paste the contents of text annotations or even images to and from the Android clipboard framework.
Other Highlights
Here are some other features introduced with the PDF Viewer 3.7 release that are worth mentioning:
Page binding is now an additional document info configuration option (PRO). It allows users to change the direction in which the document is being displayed. This is useful for documents that are supposed to be viewed from right-to-left.
OneDrive is joining our supported storage clouds collection.
There is a new text magnifier to help with precision while selecting text.
The redesigned bookmark list now includes a page preview and a short text snippet to help navigate through the bookmark list.
There are cloudy borders for annotations. These are especially useful when annotating documents with a lot of straight lines (for example, architectural plans) and for preventing annotations from mingling with page graphics.
The floating thumbnail bar is a new thumbnail bar default and was introduced in preparation for the Android Q gesture system.
Sound annotations can be recorded and replayed.
For example, here is a preview of page binding:
And here is a showcase for cloudy borders:
Stay tuned for future updates! If you're not yet using PDF Viewer, head over to the Google Play Store and download it for free. We'd also love to hear your feedback, so feel free to contact us at any time.