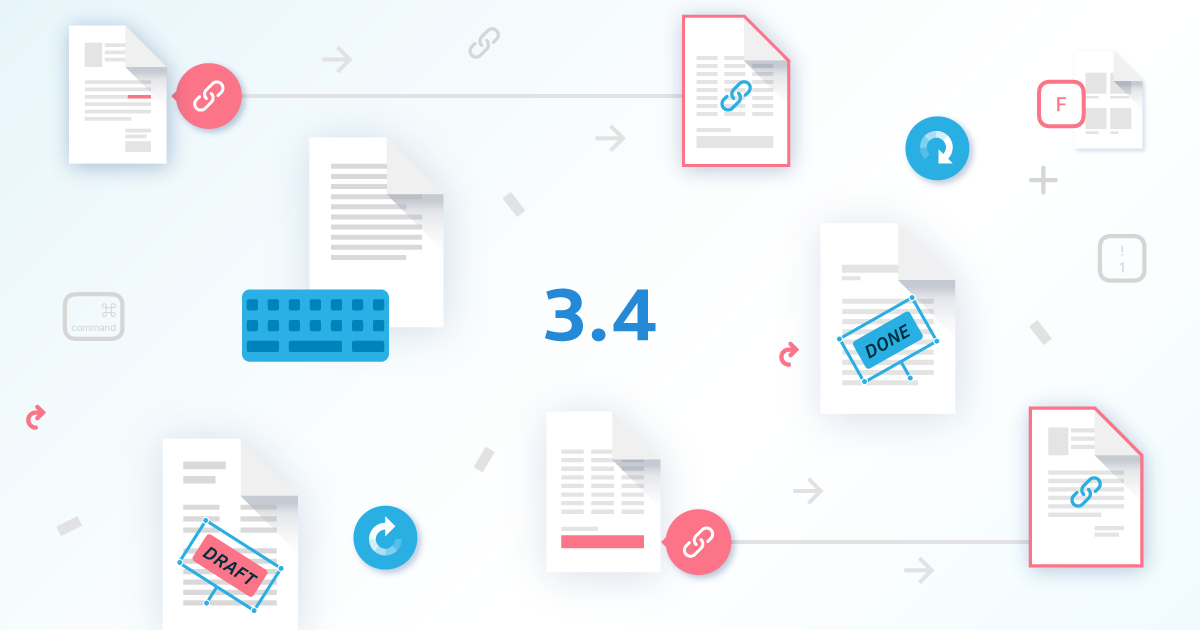 We're pleased to announce that PDF Viewer 3.4 for iOS is out now. This release allows more of the app to be controlled from an external keyboard and adds the ability to rotate stamp annotations. Additionally, we've added the capability for Pro subscribers to create links to other pages or websites.
Link Creation and Editing
Pro
For Pro subscribers, we've added a new annotation tool to add links in your documents. Links can either jump to other pages in the document, or they can take you to websites when tapped. You can find this tool in the annotation toolbar, or you can select some text and then tap the link button in the menu. It's also possible to edit existing links in documents to change their destinations.
Keyboard Control
We believe iOS is a powerful and versatile platform for getting work done, and many tasks are faster and more convenient when using an external keyboard such as the Apple Smart Keyboard or any connected Bluetooth keyboard. In this release, we've made it possible to control more of PDF Viewer without taking your hands off the keyboard. Here's what's possible:
Show the document info (⌘ + I), search (⌘ + F), sharing options (⌘ + S), and document view settings (⌘ + ,).
Select items in lists such as search results, the document outline, and the annotation list using the arrow keys.
Change to the next or previous page using the arrow keys.
Switch tabs (Ctrl + Tab and Ctrl + Shift + Tab).
Close a document (⌘ + W).
Add a bookmark (⌘ + D).
You can press and hold the Command key at any time to show a cheat sheet of the possible keyboard commands.
PDF Viewer integrates tightly with the iOS platform by using the document picker provided by iOS. This picker will be familiar to users of the Files app, and it enables the use of documents from many storage locations. However, it offers very limited options for alteration, which means we depend on iOS to provide keyboard control for this part of the app. We're hoping Apple can make improvements here in a future iOS version.  
Stamp Rotation
You can now rotate stamp annotations using the new rotation handle shown below stamps when they are selected. Stamp rotation is compatible with PDF Viewer for Android and Adobe Acrobat.
PDF Viewer can be downloaded for free from the App Store.