PDF Viewer 3.2 for iOS is out, and it now supports convenient double-tap actions when using Apple Pencil with the new iPad Pro models. We've added to the power of PDF Viewer Pro with free-form redaction and improvements to Presenter Mode, and we also improved the app's reliability by detecting file syncing conflicts.
The New iPad Pro Models and Apple Pencil
As an app designed for professionals, naturally PDF Viewer is ready for the new iPad Pro models. You can use a convenient double-tap near the tip of the second-generation Apple Pencil to speed up annotating your documents. Set your preferred double-tap action in the Settings app, so when you tap your Apple Pencil, PDF Viewer will do one of the following:
Switch between the eraser and an ink tool (the pen, highlighter, or Magic Ink).
Switch between the two most recently used tools.
Show the annotation style inspector — for example, to set the annotation color or line thickness.
As a result, annotating documents with the Apple Pencil is now easier than ever before.
Pro Feature Improvements
In version 3.1, we introduced Redaction for Pro subscribers. Redaction enables secure and irreversible removal of text from your PDF documents. Now we're extending this tool's functionality with support for content other than text — this includes images, graphics, annotations, and form fields. Images and graphics on a page that are beneath a redaction annotation will only be redacted in the area covered by the redaction annotation, leaving the rest of the content intact. Annotations and form fields will be completely removed if they overlap with a redaction annotation at any point.
To achieve this, we expanded the redaction tool to be able to create rectangular shapes anywhere on the page. It's a single tool that selects either text or any rectangle, depending on where you start creating the annotation.
We also improved Presenter Mode. This feature shows just the document contents on external displays without any distracting user interface elements. Now Presenter Mode will mirror view options like double-page mode to the external display. Additionally, on the new iPad Pro models you can use Presenter Mode with a display connected over USB-C.
Sync Conflict Detection
Previously, when a document open in PDF Viewer was modified by another app or on another device, PDF Viewer would reload the document or close the document if it was deleted. While this worked in most cases, it had the drawback of potentially losing recent changes — like new or updated annotations — when reloading. To resolve this situation, when a conflict occurs, PDF Viewer will now ask which version should be kept: the version open in PDF Viewer, or the one created by another app or on another device.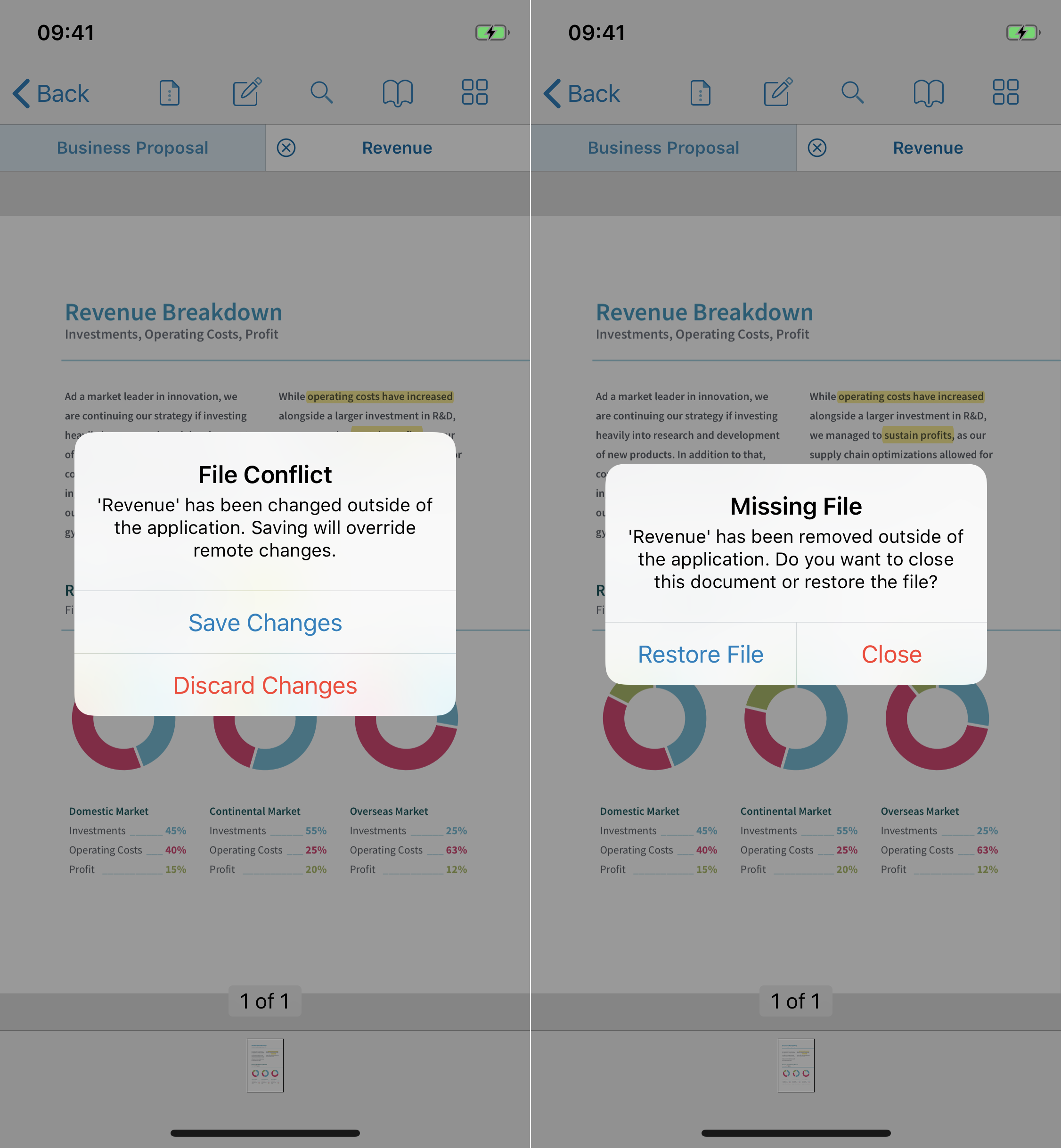 PDF Viewer can be downloaded for free from the App Store.